The IMEC International Meaning Conference is a bi-annual international conference in the UK for practitioners and researchers who focus at meaning in life and at helping people to live a meaningful life despite life's challenges (www.meaning.org.uk). The conference started in response to the successful International Meaning Conferences in Canada which are organised by the International Network for Personal Meaning and chaired by professor Paul Wong (www.meaning.ca). The focus of IMEC is on pluralistic and multidisciplinary perspectives on meaning, research and practice from anyone focusing in their work on meaning, with a strong focus on social justice ('because everyone deserves to live a meaningful life'). The IMEC conference has one day of pre-conference workshops and two days of plenary sessions, workshops and parallel sessions. The focus is on research, practice and their connection. The first conference was hosted by the University of Roehampton in 2017, and had 100 participants from all continents after only four months of promoting. The second conference was held at Birkbeck College in London and has 150 participants from all over the world. Participants included existential, psychodynamic, Gestalt, CBT and other types of therapists, researchers in positive psychology, priests, philosophers, nurses, psychiatrists, anthropologists, sociologists, social activists and human resource managers. The evaluations for both conferences were extremely positive, suggesting keeping overall the same format. 96% of the participants said in an anonymous evaluation form that they would come again and 92% said that they would try to bring colleagues with them to a next conference; therefore, we expect approximately 150 participants in 2021.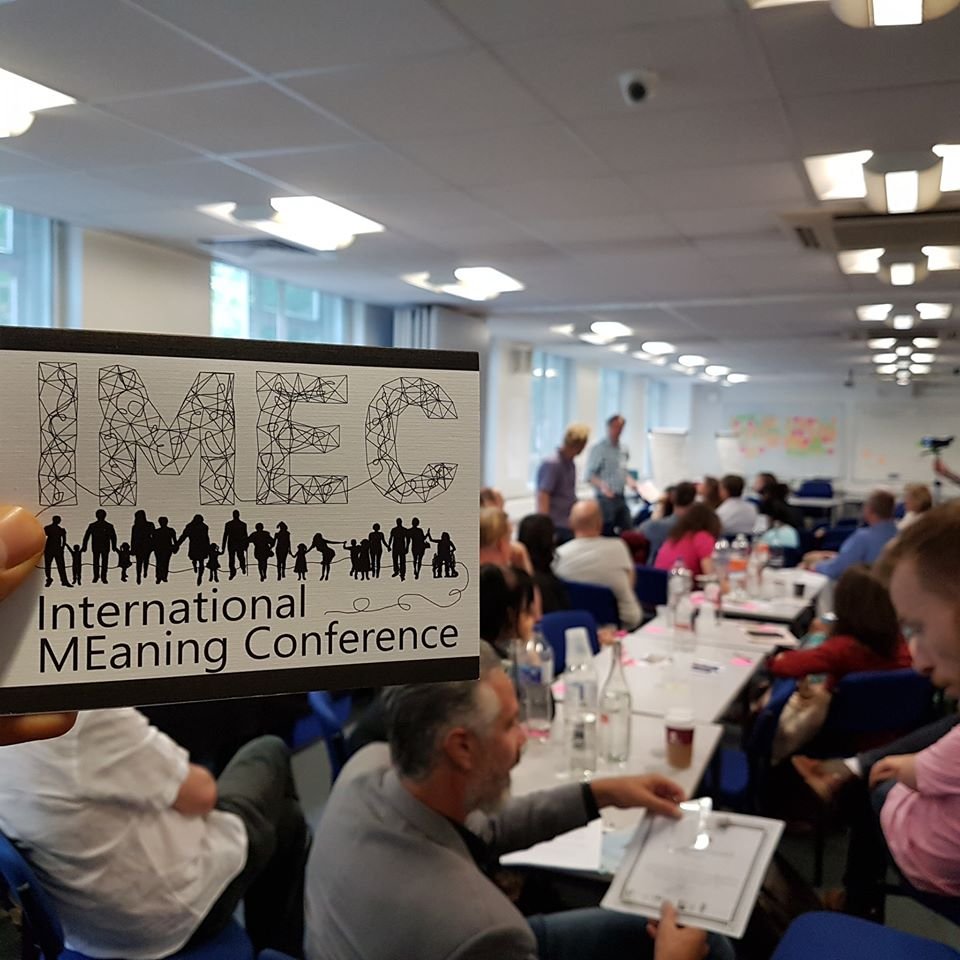 General principles behind conference
– Focus on connecting individuals and stimulating collaborations
– Multi-disciplinary (psychology, anthropology, philosophy, theology, sociology, humanities, politics, etc.)
– Pluralistic (not one specific meaning-centered 'school' of practice or research)
– Connect research and practice
– Any type of practices, e.g. therapists, priests, nurses, community workers, social workers, political activists
– Any type of research, e.g. phenomenological, quantitative, sociological, clinical, community activities, philosophical explorations
– Creative formats of connecting and learning, eg workshops, debates, etc
– Practical tools for practitioners
– Research inspiration and tools for researchers
– Meaning in different contexts: therapy, coaching, research, work, church, nursing, social activism, community events, etc.
– Evidence-based, where 'evidence' can be quantitative or qualitative research, clinical experience or systematic conceptual work
– At the end of the conference, create a joint conference statement with audience and keynote speakers, and publish this
– Accessible for as many individuals as possible (eg low fees for students and unwaged)
– Integration with online tools; e.g. live broadcasting of all sessions online (webinars) + make these available online, so that individuals anywhere in the world can follow this; after the conference, individuals can be in touch with each other via Meaning Online where they can create profiles and upload their research/presentations + presenters who cannot attend the conference can present online